E-Commerce
To sell your products via e-commerce, first set up an Internet company specializing in E-Commerce.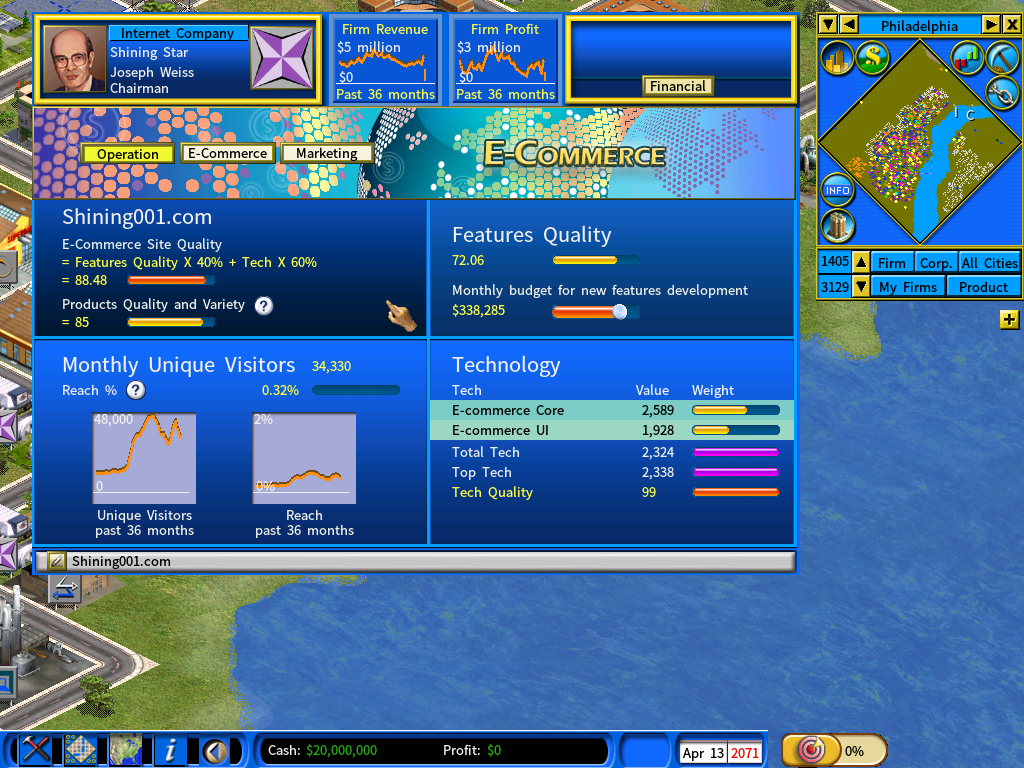 You will see a new E-Commerce bar below your factories and other wholesale firms (farms and warehouses), as shown in the following screenshot.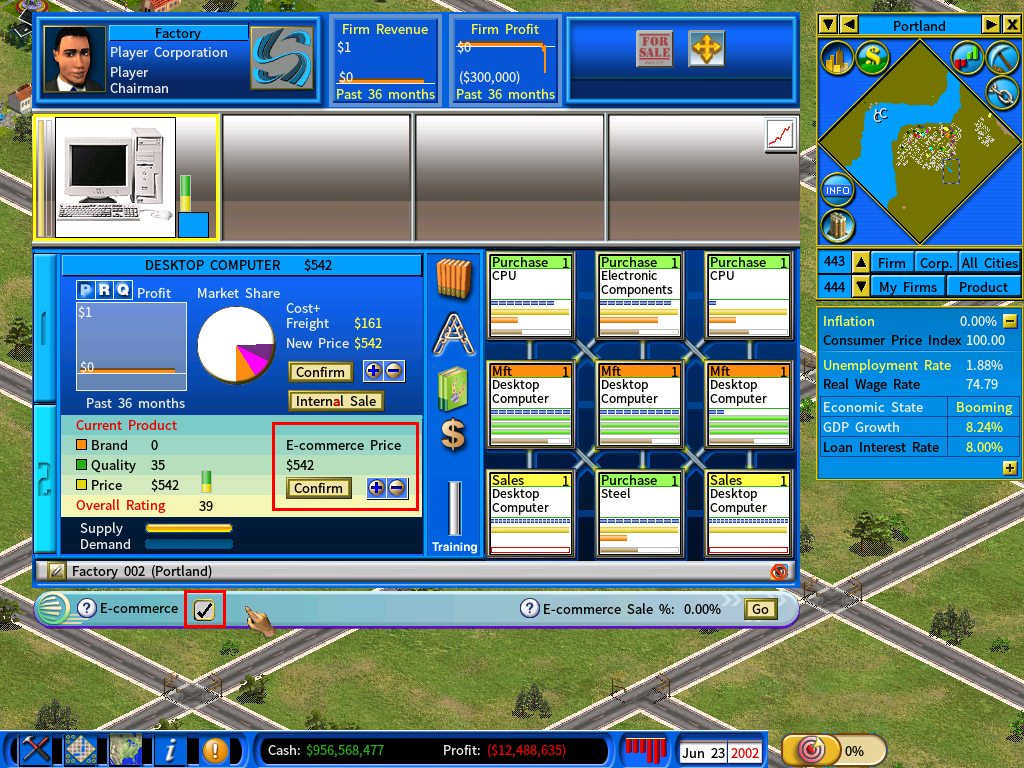 When you enable e-commerce sales for this firm by enabling the checkbox on the e-commerce bar, all your existing e-commerce Internet companies will automatically add all consumer products from this firm to its catalog, and you will see the new interface for setting e-commerce prices (see the area indicated in red on the above screenshot.)
Selling Your Software Products via E-Commerce
You may also sell your software by means of digital download via your e-commerce firm. This will save you the hassle of producing packaged box versions of your software products.
The revenue sharing between the e-commerce firm and the software company is 30/70. (70% goes to the software company).
Since it takes time for e-commerce to gain widespread acceptance, it is always a good idea to sell your software products via both digital download and retail distribution.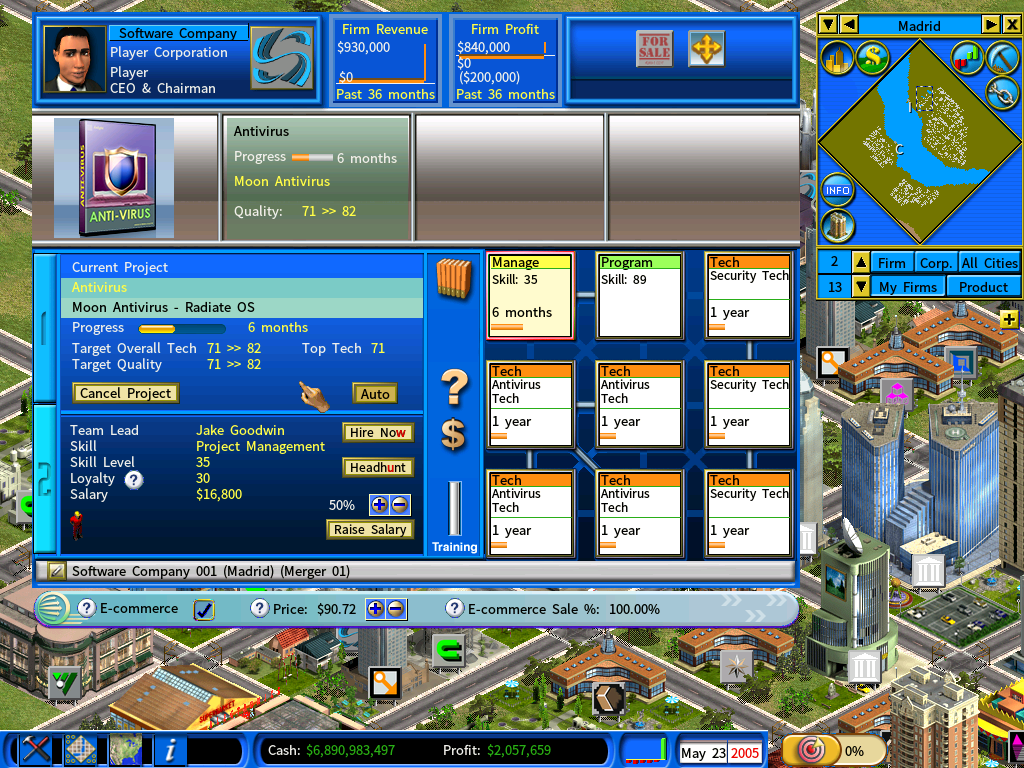 Once you have enabled E-Commerce Sales, all the consumer products in the firm will be automatically linked to your e-commerce firm.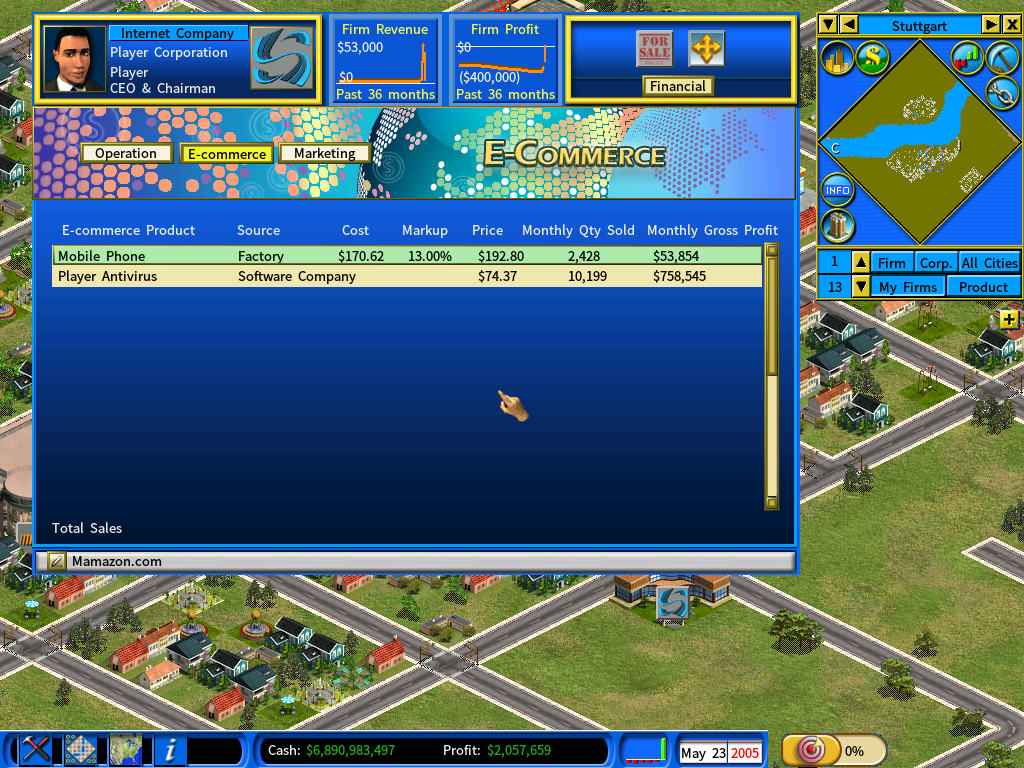 To see a summary of products being sold via your e-commerce firm, click the E–Commerce button to view the E-Commerce page, as shown in the above screenshot.
Freights
For e-commerce transactions, the products are shipped directly from factories and warehouses to the customers. The freights are paid by the customers. So you will not see freights as an expenditure item on the income statement of your firms.
Please note that products with high freight costs (relative to its selling price) sell less well on e-Commerce as consumers have to pay for the freight. For example, for a pack of frozen chicken with a price of $4 and a freight cost of $2. The freight cost is 50% of the selling price. On the other hand, a desktop computer selling for $600 has a freight cost of $60, which is 10% of the selling price. In this example, the desktop computer will sell well on e-Commerce, whereas the frozen chicken will not.
---
Viewing E-Commerce Sales in the Product Detail Report
When the Digital Age DLC is enabled, you could click the [E-Commerce] button to switch the list to display products that are sold via e-commerce, as shown in the below screenshot.
One of the characteristics of e-commerce is that an e-commerce product can be sold to any customer in any city. Thus you will see that the price of an e-commerce product is the same for all cities. This is in contrast to products being sold at retail stores where you could set different prices in different cities for the same product. It is important to recognize this and set your pricing strategy accordingly.