Download MODs via Capitalism Lab's Mod Downloader

RealWorld Mod is the most popular mod for Capitalism Lab, with over 600 products and 900 customized product images, plus lots of new logos and portraits. It is the essential mod that we recommend to all Capitalism Lab players.


Real World MOD (Service Edition) brings a wealth of new possibilities to your gaming experience, enabling you to operate Pizzerias, Fast Food Shops, Business Shops and Hotels as Service Firms. Not only that but also it provides an entirely upgraded building for the pizzeria along with fresh gameplay mechanics specifically designed for service firms!
To use the mod, you must first upgrade to Capitalism Lab version 8.1.00 or newer which supports Service Firms.
Download the Mod in a Single Step
Capitalism Lab's mod downloader is linked to Real World MOD, enabling you to download it in a breeze. To do so, simply double-click on the RealWorld MOD Service Edition banner from the MOD menu.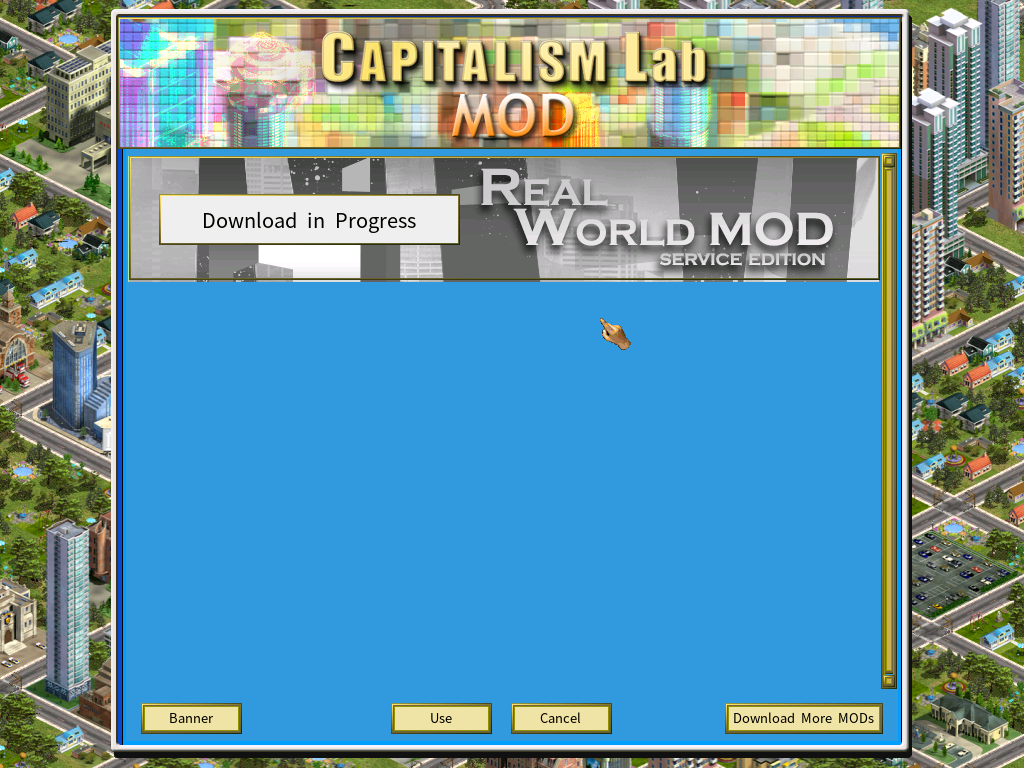 The download will take place in background. When it is ready, double-click on the banner to load it.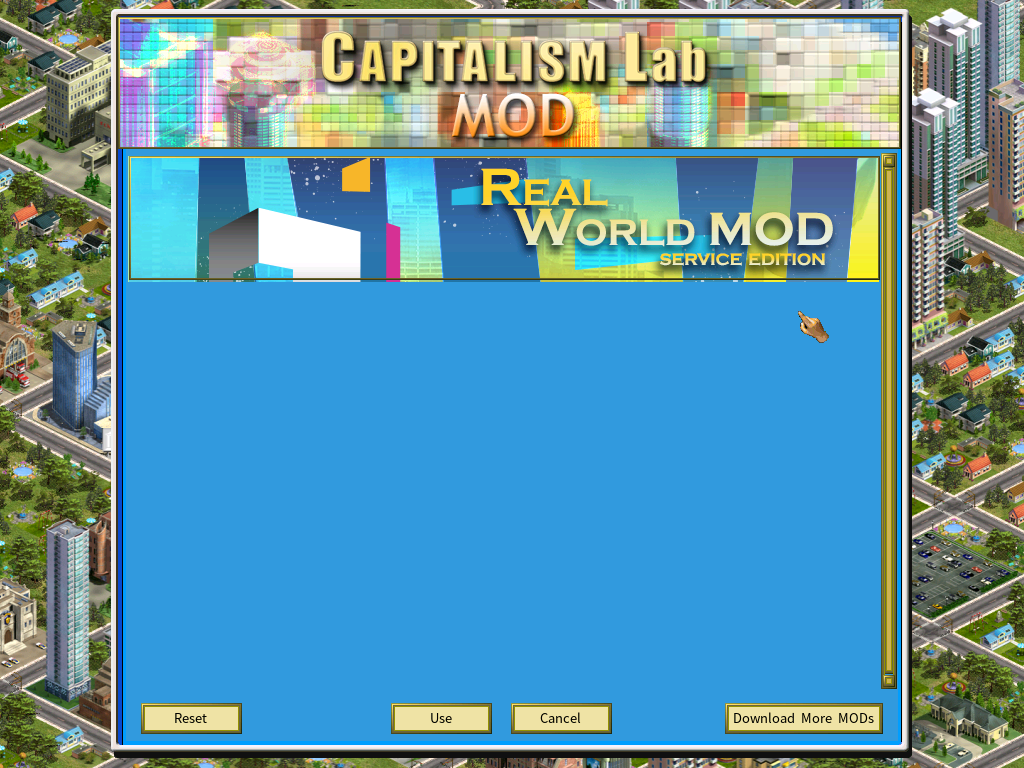 ---
MOD that you can download and installer with an installer:
Modern World Mod by Saffgee



Modern World Mod takes the world of manufacturing, retail and product depth to a whole new level with extremely realistic and complex production blueprints. It's an ambitious undertaking that challenges players to think outside-the-box in order to achieve corporate success.
Download MOD Installer to Install the Mod in a Single Step
---
MODs that you can download manually with 3 Easy Steps:

Capitalism World Mod uses the mod system in a truly creative way, adding an amazing array of new industries to the game, including airlines, entertainment, hospital services, and public utilities. And the best part? You can even assemble your own electric cars and rockets – just imagine it: build your very own mini versions of Tesla and SpaceX!
Auto Empire Mod by JackBristow


From economical commuter vehicles to ultra-luxurious carbon fiber hypercars, this mod supercharges the Automobile class with an array of 20 models. Each car is finely crafted from sophisticated parts – like a sedan chassis sporting a V8 engine and superior tires – making for a spectacular muscle car!
Video Game Thumb Candy MOD by BioBiro

While there is no shortage of games on the market that let you manage a video game development company, none of them matches this mod in terms of offering you an unique opportunity to produce video game console hardware and dominate the video game software market at the same time (imagine a behemoth company combining Sony and EA.)
Step 2: 
Unpack the downloaded files to your MOD folder.
For MOD files with the ZIP file extension, you could unpack them with the standard Windows tool.
For MOD files with the RAR file extension, you could use the tool WinRAR for unpacking. WinRAR can be downloaded for free from www.rarlab.com
To locate the MOD folder: 
i) Open your Capitalism Lab program folder by right-clicking on the Capitalism Lab game icon and select "Properties", then select "Open File Location" to open the Capitalism Lab program folder.
ii) Select MOD folder under the Capitalism Lab folder. (If the MOD folder does not exist, you may create one yourself. )
If you have difficulty unpacking the mod following the above instructions, please click here for more detailed instructions.
Step 3:
Access the MOD interface from the game main menu and select the new MOD to use it.
---
Alternative Method
Alternatively, you may just click the [MOD] icon on the main menu, as shown below.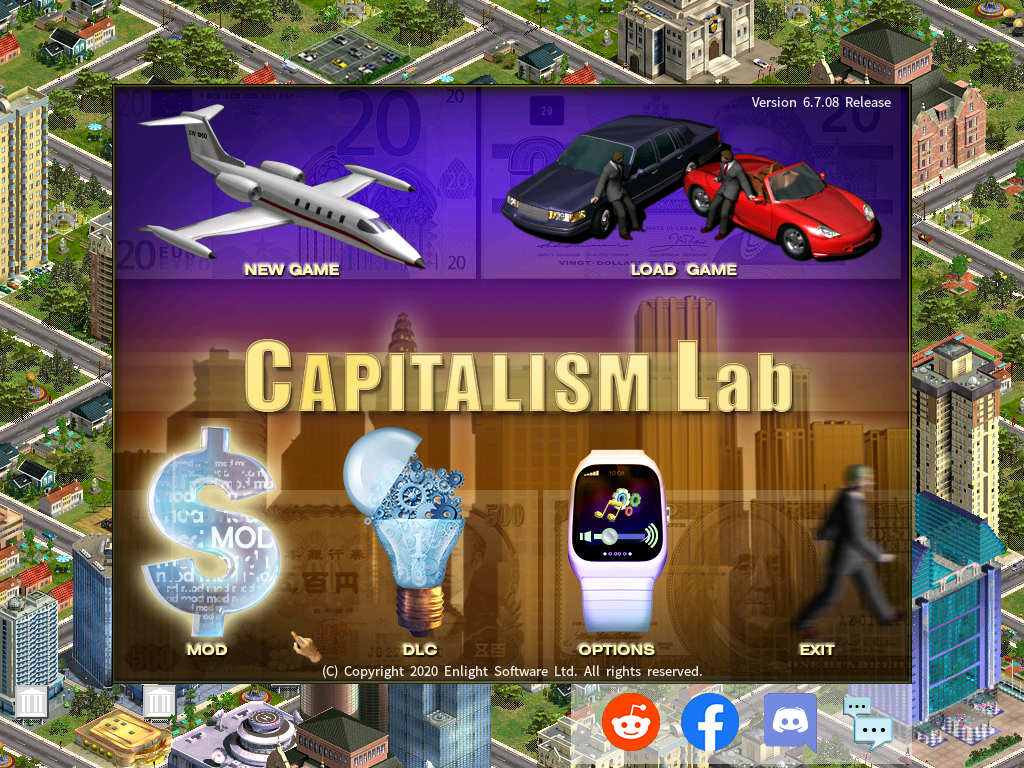 Then click the [Download MOD] button at the bottom of the screen, as shown below.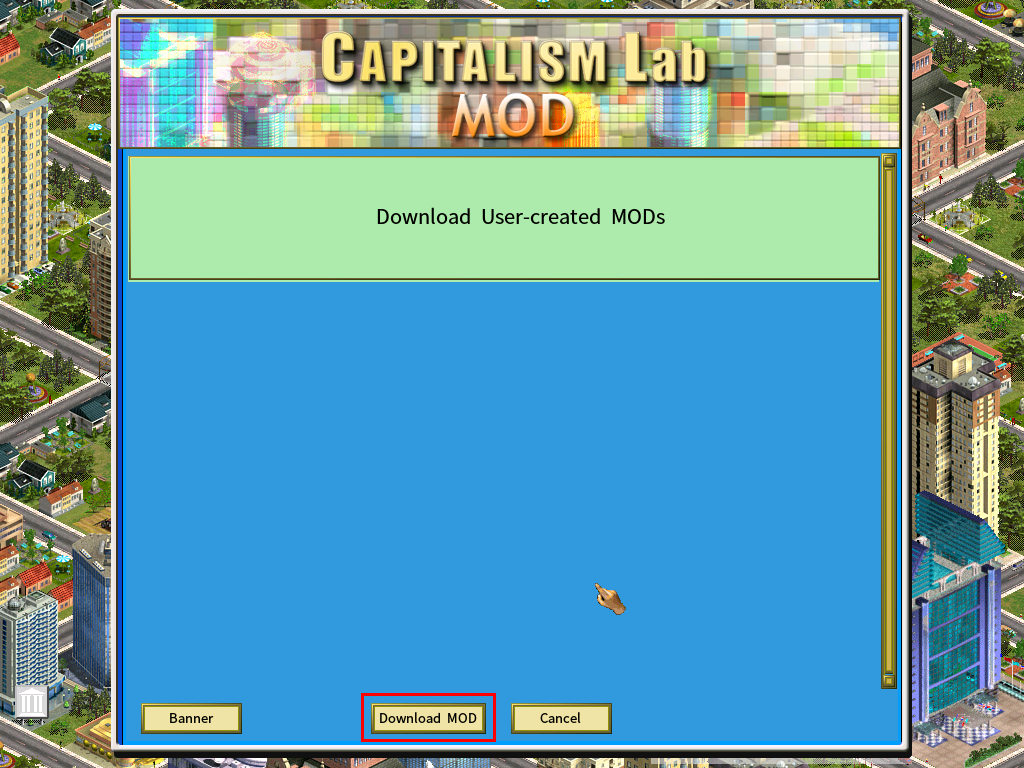 The following window will appear and you can simply follow the instructions there to download and load user-created MODs.