Buy Capitalism Lab
When you order Capitalism Lab now, you can get 3 classic games designed by Trevor Chan for free.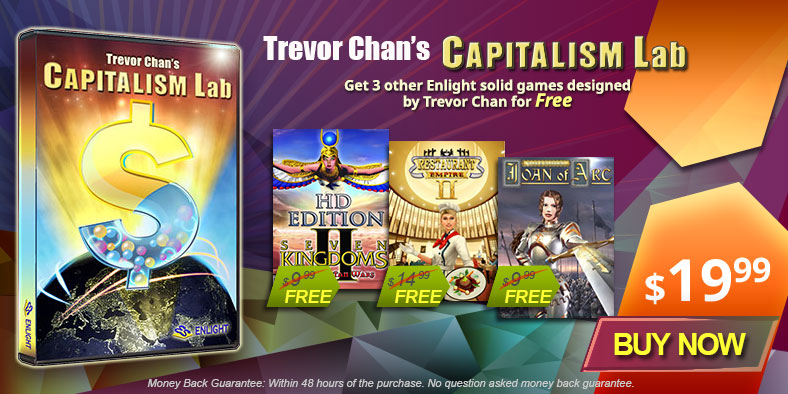 Special Promotion: Buy Now to Get Extra 10% Discount
---
User Testimonial
It seemed that the days of good business simulations were over – and then came Capitalism Lab. I've been playing business sims since I started playing computer games almost 20 years ago. CapLab is a masterpiece – easy to learn but hard to master.
I've played Capitalism Lab for countless hours. It never gets boring. When you have finished it, you don't want to switch to another game, you just start over, try to avoid the mistakes you made before, and invent other products or strategies.
Usually I don't feel grateful when it comes to products, but there are a few exceptions. Regarding games, Capitalism Lab is one of them. So thanks, Enlight Software.
Rating: 10 out of 10
Patrick
Bremen, Germany
See More User Testimonials
---
Risk Free Purchase with Money Back Guarantee! 
If you purchase the game and for whatever reason you want a refund, you may email us at 
info@enlight.com
 within 48 hours of your purchase to request a refund. We will provide you with a full refund, no questions asked.
---
Expand Capitalism Lab with DLCs

With Subsidiary DLC, you can expand your business to new heights! Create multiple subsidiary companies with AI CEOs at their helm and get them listed on a stock exchange. Or take existing firms and assets from the parent company and spin them off as its own public entity via IPO while making big money along the way!

Become an entrepreneurial mayor with City Economic Simulation DLC! Put your urban planning skills to work as you build new cities from scratch, form your own political party and shape public policy, while simultaneously growing your business empire!


Digital Age DLC offers you an exciting opportunity to build a tech startup at the dawn of the digital age and lead it from its infancy through revolutionary growth to become a tech powerhouse that joins the ranks of tech titans such as Microsoft and Google.
View Details and DLC Bundle Deal
---
Capitalism Lab + 2 DLCs Bundle
Capitalism Lab (list price: $19.99) + Subsidiary DLC ($9.99) + City Economic Simulation DLC ($9.99) for $29.99 only (original price: $39.97)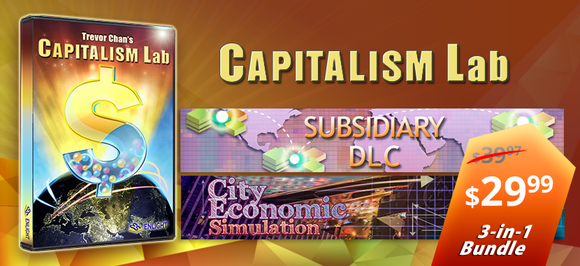 Special Promotion: Buy Now to Get Extra 10% Discount
Capitalism Lab + 3 DLCs Bundle
Capitalism Lab (list price: $19.99) + Subsidiary DLC ($9.99) + City Economic Simulation DLC ($9.99) + Digital Age DLC ($12.99) for $39.99 only (original price: $52.96)
---
FAQ about ordering Capitalism Lab
---
System Requirements
---
Contact Us
If you need assistance with Capitalism Lab, you may email us at info@enlight.com