Differences between Capitalism 2 and Capitalism Lab
Capitalism Lab is recommended for all users as it offers a more user friendly and feature-rich gaming experience. Capitalism 2 is recommended only for users who are keenly interested in multiplayer games. Their unique features and shared features are listed below.
The unique features available in Capitalism 2 and Capitalism Lab respectively:
CAPITALISM 2


The classic game, which offers:

The Entrepreneur campaign
The Capitalist campaign
Multiplayer Games

CAPITALISM LAB

It continues to evolve with improvements and updates. Check out the current list of new features and improvements:
The base set of features shared by Capitalism 2 and Capitalism Lab:
Make critical business decisions in all areas including retail, manufacturing, marketing, research, agriculture, mining, real estate development and more.
Choose from over 60 product types to manufacture and market, including apparel, automobile, beverage, food, computers, consumer electronics, footwear, toys, watches and many more! (over 85 product types in Capitalism Lab.)
Hire and fire upper management positions such as Chief Operating Officer, Chief Marketing Officer, and Chief Technical Officer.
Develop your own technology or acquire it from another company.
Expand your corporation into a true conglomerate; get ink on your fingers and take to the airwaves with your newspaper publishers, TV, and radio stations.
A realistic stock market that allows you to trade stock for quick profits or make long-term investments for ultimate rewards. On a corporate level, you may take the path of merger and acquisition to expand your business empire rapidly.
Buy Capitalism 2 + Capitalism Lab
If you are new to the Capitalism series, you can now get both
Capitalism 2
and Capitalism Lab, plus 3 free games, for only $22.99!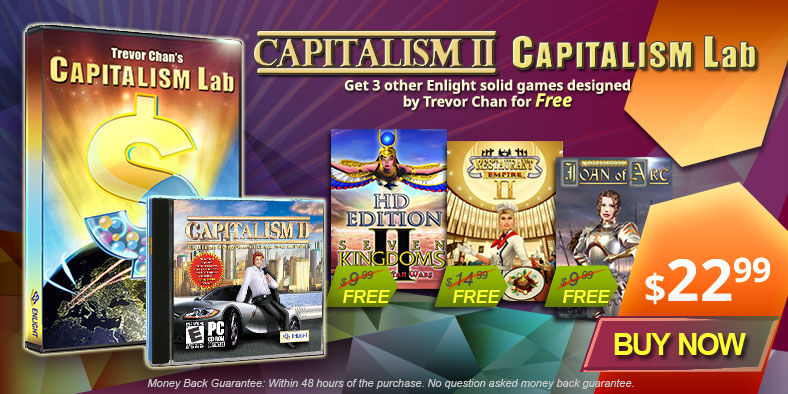 Special Promotion: Buy Now to Get Extra 10% Discount