About Capitalism Lab
Capitalism Lab is a major stand-alone expansion for Capitalism 2 with a host of exciting new features and improvements.
Why is it called Capitalism Lab?
The word "Lab" implies that Capitalism Lab, after its initial release, continues to evolve. Our goal is to keep adding truly innovative gameplay features to the game, further cementing its reputation as
the best business simulation game ever released
.
New Features
Click any of the following links to check out the details of its new features:
---
SPECIAL OFFERS
For a limited time only, you will
 get 3 classic games designed by Trevor Chan for FREE
 when you order Capitalism Lab now!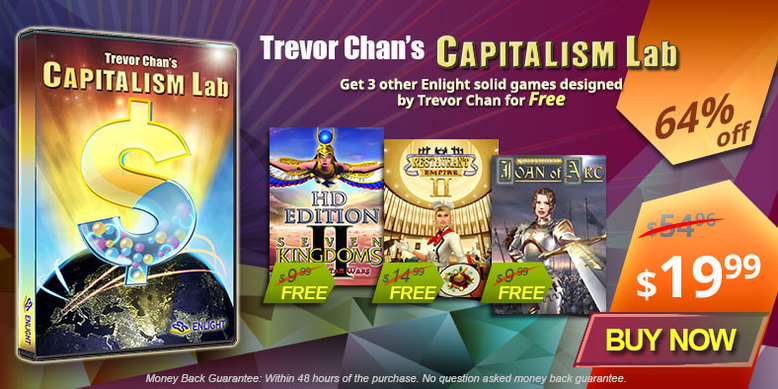 ---
User Testimonials
It seemed that the times of good business simulations was over – and then Capitalism Lab came along the way. I've been playing business sims since I started playing computer games almost 20 years and whilst back then there was a rich variety of good games the genre almost dried out in the past years. However, CapLab is a masterpiece, a bit like "The Lemmings": pretty easy to learn, very hard to handle.
So if anyone is looking for a game that provides more than just two hours of scripted gameplay, even though it may be a call of duty, you should give this one a try. I've been playing Capitalism Lab during its beta phase for countless hours. It never gets boring, after you finished it you won't want to change for another game, you simply start over again, trying to avoid mistakes you made before, invent other products or strategies.
Usually I don't feel grateful when it comes products, but there are a few exceptions. Regarding games, Capitalism Lab is one of them (and the FIFA-Series for my XBox ). So thanks, Enlight Software.
Rating: 10 out of 10.
Patrick
Bremen, Germany
See More User Testimonials
Risk Free Purchase with Money Back Guarantee! 
If you purchase the game and for whatever reason you want a refund, you may email us at 
info@enlight.com
 within 48 hours of your purchase to request a refund. We will provide you with a full refund, no questions asked.
New DLCs for Capitalism Lab
The Subsidiary DLC introduces new features for conquering the business world on a grander scale!

The City Economic Simulation DLC lets you build new cities from scratch, form your own political party, and assume the role of mayor while simultaneously growing your business empire!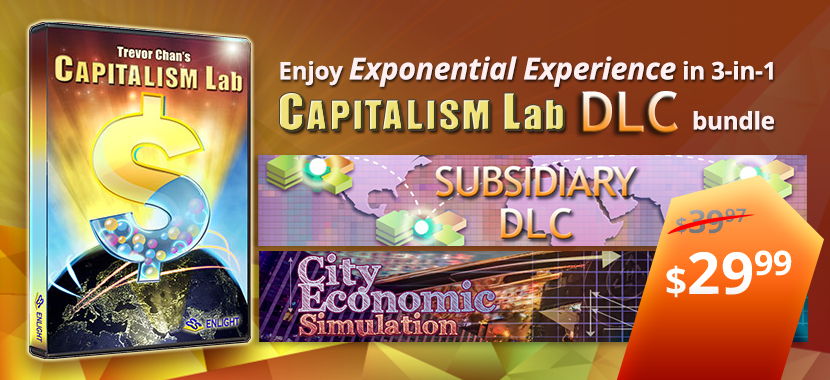 Buy all of above + Capitalism 2 in

Capitalism Ultimate Bundle

 
For a limited time only, you will also get a free bonus game of the classic Capitalism Plus (predecessor to Capitalism 2)
System Requirements of Capitalism Lab
Contact Us
If you need assistance with Capitalism Lab, you may email us at info@enlight.com
If you are a game journalist or a blog site owner and interested in writing about Capitalism Lab, you may request a press copy by emailing info@enlight.com